Offer a travel gift voucher!
A holiday is surely the most beautiful gift that everyone dreams of receiving. And at Europe Active there is something for everyone: a motorcycle trip for motorcyclists, a bike trip for big riders, a hiking trip for nature lovers... Choose an amount and you will receive an email with your gift certificate.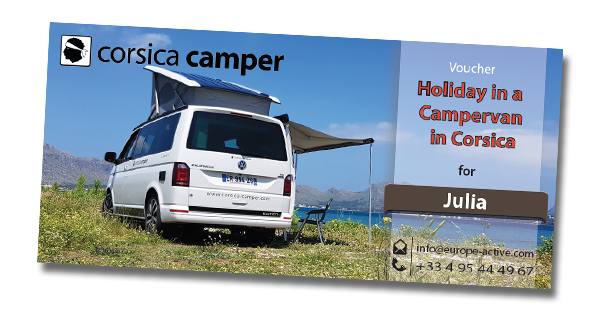 How does it work?
On this page, you can order a gift voucher to be credited towards the purchase of any trip on this website.
Send your request by specifying your name, your email (important, it is at this address that you will receive the voucher), the recipient's first name, the amount, and the type of holiday (rental only or trip).
Within 24 hours you receive by email a pdf file with a personalised gift voucher (recipient's first name, amount, visual) and a unique code.
You print the gift certificate and give it away. The beneficiary is overjoyed.
The beneficiary can then choose a trip on our website. At the time of booking, he/she must enter the code that the voucher reads in order to benefit from the discount corresponding to the amount specified on the voucher.
FAQ
What is the deadline for using gift vouchers?
The beneficiary must use the gift voucher no later than 1 year after the voucher is issued. The date is on the voucher. He/she can travel later, but the reservation must be made before the date indicated on the voucher.
How much are the gift vouchers?
It's your choice! €20, €250, €804... Specify the amount you want when you place your order.
What if the voucher's value is higher than the price of the selected trip?
If the selected trip costs €350 and the gift voucher is worth €400, we can issue a new voucher equivalent to the balance (€50). The beneficiary can also take advantage of this opportunity to request an additional service (superior comfort accommodation, extra night, etc.).
How to pay the difference between the voucher's value and the price of the trip?
If your voucher is worth €100 and the selected trip costs €250, you can pay the €150 difference by any of the means available on the site: debit card, bank transfer...
I don't know which trip to choose, can I get a refund for the gift voucher?
Sorry, our gift certificates are non-refundable. You will find many more holiday ideas on our Europe Active. website.